YOU CAN GET YOUR PET VACCINATED AGAINST RABIES
AND EXAMINED BY A VETERINARIAN
AT ANY VETERINARY HOSPITAL OR CLINIC AT ANY TIME OF YEAR.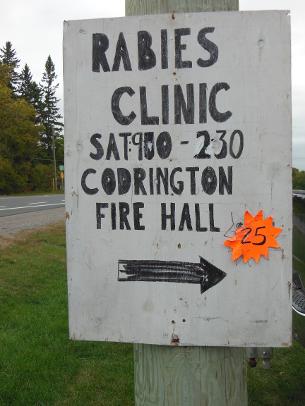 COVID 19 CONDITIONS
WILL DETERMINE WHETHER
I HOLD A RABIES CLINIC AT
CODRINGTON FIRE HALL
IN 2021.
COST RABIES CLINIC NOW $35.00
TICK PREVENTION FOR
YOUR PET
ticks will defrost at 0-4 degress Celcius
climate change has warmed our winters,
CONSIDER YEAR-ROUND PROTECTION
BRIGHTON / COLBORNE AREAS
HAVE BEEN DECLARED TO BE
HIGH RISK FOR BLACK-LEGGED TICKS (DEER TICK) CARRYING LYME DISEASE (30%). IF YOU HAVE FRIENDS OR FAMILY COMING TO THIS AREA, ENSURE THEY ARE AWARE AND CAN ORGANIZE TICK PREVENTION FOR THEIR PETS.
Traveling to the States?
Your pet will need an up to date Rabies vaccine that has NOT been given in the previous 30 days but is not due in a short time in future.
Schedule your pet's vaccination accordingly.
___________________________________________________________________