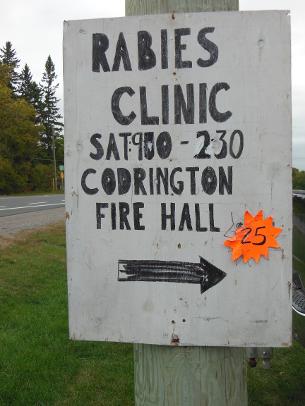 RABIES CLINIC
2018
$35
CODRINGTON FIRE HALL
SATURDAY
28th SEPTEMBER
^^^^^^^^^^
FOR BOTH LOCATIONS:
3-YEAR CERTIFICATES ARE AVAILABLE.
PLEASE BRING YOUR PET'S LATEST RABIES CERTIFICATE FOR US TO VERIFY WHETHER THEY QUALIFY FOR A 3 YEAR CERTIFICATE.
WE WILL HAVE A RECORD OF PETS VACCINATED BY DR.HRUSHY LAST YEAR.
TO QUALIFY FOR A 3 YEAR CERTIFICATE, YOUR PET MUST HAVE BEEN VACCINATED LAST YEAR OR THEY RECEIVED A 3 YEAR VACCINE ONE YEAR AFTER A PREVIOUS RABIES VACCINE. IF THIS IS THE CASE PLEASE BRING ALL CERTIFICATES TO PROVE THIS IS THE CASE.
ALDERVILLE COMMUNITY CENTRE
SATURDAY
5 th OCTOBER
IF YOUR PET HAS A REGULAR VET, THEN IT IS CHEAPER TO GET THE RABIES VACCINES WITH THE OTHER VACCINES THAT THEY NEED.
Confirmed clusters of canine influenza in Ontario
H3N2 Canine influenza virus (CIV) was first identified in Canada in southwestern Ontario in late December 2017
Canine influenza continues to cause problems in Ontario, with reported cases in Bracebridge, Gravenhurst, Orillia, Grimsby, Cobourg and is now in Colbourne as of Spring 2018.
I do have the vaccine for H3N2/H3N8 for anyone who is concerned that their dog may be at risk for getting the canine flu.
All veterinarians are required to immediately report known or suspected infections to our local medical officer of health.
Here are some guidelines:
At this time, it is best to avoid areas where other dogs congregate: doggy day care, grooming salons, dog parks
If your dog is sick (depressed, coughing, sneezing, runny eyes, runny nose, decreased appetite), keep them at home and away from other dogs, and contact me for medical attention.
If you know of, or go near, any dogs who are sick with the flu, have your dog vaccinated as soon as possible
you can bring the virus home to your own dog. Wash your hands and wipe your footwear with any household disinfectant. The virus can live for 48 hours on your clothing or you
if you see a sick dog, keep your dog away from it.
best to keep your dog from other dogs for the time being
if a dog has symptoms of the canine influenza, inform your veterinarian
vaccination is recommended in the areas where canine influenza is present, as well as adjacent areas to help reduce the spread. Vaccination requires two doses 2 - 4 weeks apart
vaccination is important for young and very old dogs, and those with cardiac disease
vaccination is not 100% effective, but can reduce the risk and potential severity of infection. Your dog will not be protected until a week after the Booster, which is given 2-4 weeks after the first vaccination
___________________________________________________________________
TIME HAS ARRIVED FOR TICK PREVENTION FOR
YOUR PET
BRIGHTON / COLBORNE AREAS
HAVE BEEN DECLARED TO BE
HIGH RISK FOR BLACK-LEGGED TICKS (DEER TICK) CARRYING LYME DISEASE (30%). IF YOU HAVE FRIENDS OR FAMILY COMING TO THIS AREA, ENSURE THEY ARE AWARE AND CAN ORGANIZE TICK PREVENTION FOR THEIR PETS.
Traveling to the States?
Your pet will need an up to date Rabies vaccine that has NOT been given in the previous 30 days. Schedule your pet's vaccination accordingly.
___________________________________________________________________