CONTACT
DURING THE DAY MONDAY TO FRIDAY (8am-5pm)
(Saturday morning is pre-arranged appointments only)
613 475 2880
IF I DO NOT ANSWER IN PERSON, LISTEN CLOSELY TO THE MESSAGE
WHICH WILL INDICATE:
Which vet/hospital to call IF I am NOT available

when your non urgent message will be returned

HOW TO PAGE ME (IF I AM AVAILABLE):
: Leave your name & number and a short message THEN press 1 1 2 BEFORE you hang up (while you are still connected)
I will return your urgent call usually within 15-25 minutes
THIS WILL ONLY WORK IF I AM AVAILABLE: YOU MUST LISTEN TO THE MESSAGE.
If you cannot wait with your emergency, a hospital number will be given in the message.
THE SCHEDULED APPOINTMENT
ALL APPOINTMENTS ARE GIVEN AS AN ESTIMATED TIME OF ARRIVAL (E.T.A.) WITHIN AN HOUR RANGE.
I cannot control the length of time the previous appointment will take, but please bear in mind that once I arrive at your home, I will also take the time required to give your pet the time and attention required.
(IF CIRCUMSTANCES CHANGE FOR YOU, PLEASE SEND ME A MESSAGE BY THE PAGING SYSTEM
BEFORE
I ARRIVE, AND THERE WILL BE NO CHARGE TO YOU)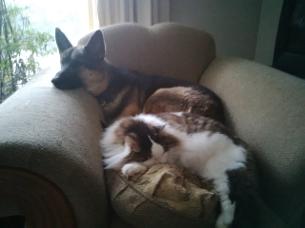 FEES: All fees are very similar to what you would expect at a hospital/clinic.
The additional fees are for the additional service of the Housecall & a mileage fee
___________________________________________________________________
The hospital that I use and many other hospitals in the area are referring clients to the local after-hour emergency hospitals, listed below.
AFTER HOURS
IF YOU ARE CALLING BETWEEN 5 PM AND 8 AM OR ON THE WEEK END, PLEASE CALL:
KAWARTHA VETERINARY EMERGENCY CLINIC
1840 Lansdowne St W PETERBOROUGH
705 741 5832
OR
Pet Hospital of Prince Edward & Hastings County
5529 Hwy 62 South (ROSSMORE) behind the Petro Can
Prince Edward County K8N 4Z7
613 968 9956
_______________________________________________________
AT-HOME EUTHANASIA ON WEEK-ENDS
IS AVAILABLE OCCASIONALLY.
MY PHONE MESSAGE WILL INDICATE THIS
AND THE HOURS THAT MESSAGES WILL BE CHECKED.
AFTER HOUR EMERGENCY FEES WILL APPLY